The 2013 Elk Rut Intensity will depend upon how healthy the cows are in September. 
Photo Courtesy of Colburn & Scott Outfitters
Every year the discussions take place around the elk camp fire:
How come the elk aren't rutting?
When is the elk rut going to kick in?

Rain makes nutrient enriched feed.  Green feed makes elk healthy. 
Healthy FAT cow elk cycle sooner.
Here is a great factual read from the National Forest Service:
"Reproduction and development: Gestation ranges from 244 to 265 days [128,221,230,344]. Most calving occurs from late May to early June [128,230,296,344]. Male calves tend to be born earlier than female calves; this might be due to the slightly greater proportion of male calves born to first-time mothers [127].
Conception dates in late summer and fall and thus timing of parturition in late spring and early summer are related to cow nutritional condition, cow lactation status, and bull age [230]. In general, cows in good physical condition conceive earlier than those in poor condition [312]. Because lactating cows are generally in relatively poor condition, they often conceive later than nonlactating cows [208,312]. In Oregon, cows with the highest kidney fat indices (indicating good physical condition) conceived on average 19 days earlier than cows with the lowest kidney fat indices [312].
 
Conception dates tend to be later and less synchronous in herds where yearling males do most of the breeding [221,230]. In captive elk populations in southwestern Oregon, births of yearling-sired calves peaked in early July, whereas calves sired by 2.5- and 3.5-year-old bulls were born in late May and early June [120]. In an experimental, semi-confined population at the Starkey Experimental Forest and Range in northeastern Oregon, conception dates of elk cows bred by 4- and 5-year-old bulls were on average 16 days earlier than conception dates of cows bred by yearlings [208]. Bull age also alters the length of the rut [230]. When 5-year-old bulls were the primary breeders at the Starkey Experimental Forest and Range, the rut was 41 days, whereas the rut lasted 71 days when yearling bulls were the primary breeders [208]. Late conception dates resulting from a delayed or lengthened rutting season may reduce calf survival because late-born calves may not have enough time to grow adequately and build fat reserves before forage becomes limited and environmental conditions worsen in winter [221,230]. For more information, see Calf survival."
We have heard people using the temperature, moon phase, hunting pressure, and other misc. reasons for a lack luster elk rut.  Although these can have both positive and negative affects on the elk rut, they DO NOT change the dates of a cow's estrus cycle.  
Photo Courtesy of Exclusive Pursuit Outfitters
So, what does this mean for those of you with rut elk tags?  
You can't make it rain, but knowing where and how much rain your state/gmu received will help you make a better game plan while scouting and hunting in September.
If your unit has been in a short-term drought for the 2-3 months leading up to your elk hunt, you can almost bet most of the rutting activity will take place during the last part of your September season.
Colorado, Arizona, New Mexico and Utah are impacted by the Southwest Monsoon.  Typically, the Monsoon Season starts around the 1st of July.  This weather pattern is CRITICAL for an intense rut.

Also, states or units managed for a lower bull-to-cow ratio will tend to have a later rut.  We have personally seen some areas in Arizona that are flat going nuts on the 1st of September, if the Monsoon Season was a good one.
This year I have a Limited Entry Utah Archery Bull Elk tag.  The season is long and you can bet I am going to be watching and looking at the precipitation reports EVERYDAY!!!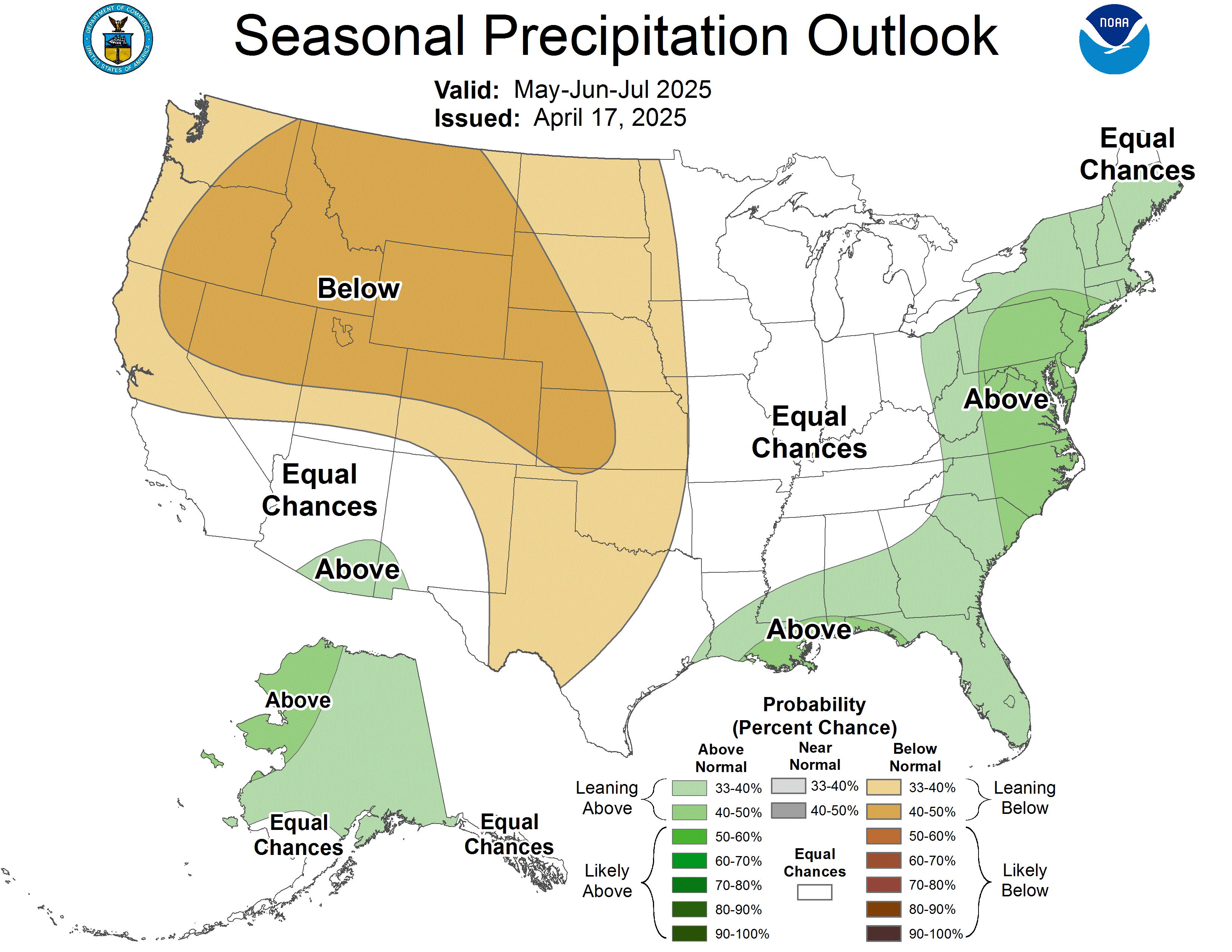 3 Month Outlook
Elk Rut Intensity Past Blog Posts: